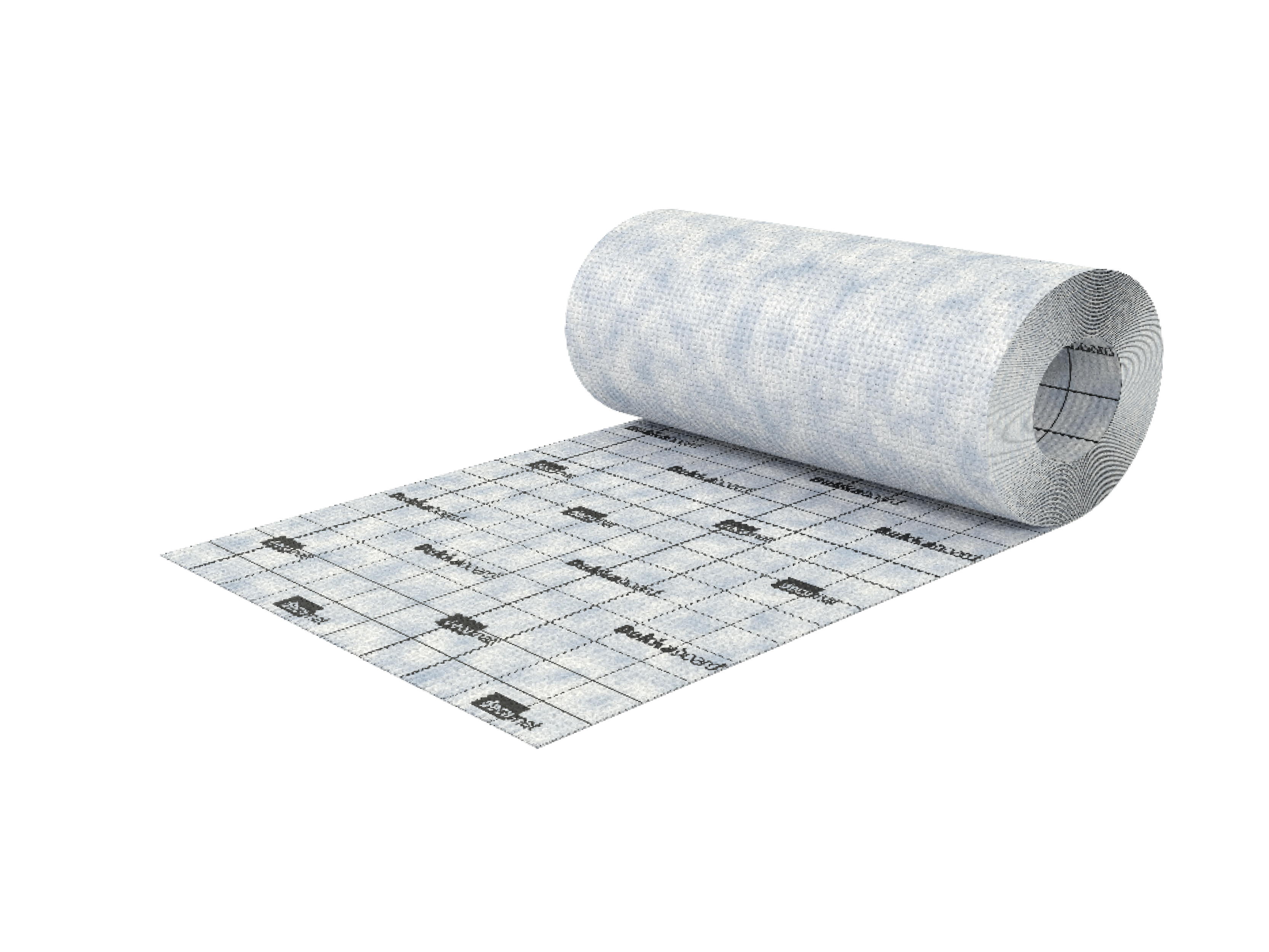 We are pleased to introduce the latest in our line of movement mattings, the innovative Dukkaboard Deco Matting. The 3mm thick matting is a one-step underlayment system which can be used on the most common substrates, including timber floors and cracked concrete. As a multi-purpose movement matting it is compatible with all floor tile types. It is manufactured using 70% recycled materials, meaning it is kinder to the environment than many alternative forms of movement mattings.
Ease of installation
Thanks to its durable lightweight design, the matting is quick and simple to install. The matting incorporates LDPE polyethylene, which is soft, pliable and extremely simple to lay. The matting will roll out completely flat, without each end standing up. In comparison, some mattings use HPDE polyethylene which retains its shape and the ends curl away from the adhesive.
The heat bonded fleece covers both sides to provide a strong yet quick adhesive connection, without the use of a glue bond. This advanced lamination ensures the floor finish is securely anchored to the base substrate, with an exceptional bond and high tensile ratings. In addition, the Decomat was rated 'Extra Heavy' by Robinson Floor Testing, with other leading mattings only achieving the 'Heavy' rating.
The matting can be installed using standard flexible tile adhesive, although if used as part of an underfloor heating system, a higher adhesive strength should be used. The design of the matting ensures adhesives are absorbed quickly and with void-free dimply filling, enabling a quick installation of the surface floor tiles. If the matting requires dimple filling, these can be easily filled with one trowel stroke, with alternatives needing up to 3 strokes or even adhesive under the mesh.
Unlike hydrophobic fleeces which absorb water, the Dukkaboard Decomat Matting features a hydrophile fleece. This type of fleece naturally drains water out of the adhesive system, allowing a faster and more secure bond. Once the floor is ready to tile, the clear chalk marks on the fleece will always remain visible allowing simple cutting and tile setting.
Eliminating the risks linked with tile failing and cracking
If traditional building materials are used to install tiles, there are risks associated with cracking and failure of the tiles. Using the Dukkaboard Deco Matting eliminates these risks and once installed it is resistant to rot, chemicals, fungus, bacteria and alkalis, offering durability in every installation. It is also impervious to root penetration and inert to drinking water.
The matting features a unique circular indentation design of the fleece and polyethylene sheeting, providing excellent absorption of multi-directional stresses due to lateral substrate movement. This innovative matting also provides improved load distribution of specific points across the floor surface.
The Dukkaboard Deco Matting is available in roll lengths of 5 or 30m, with a width of 1m.
Within our range of movement matting for tiles we also offer the Dukkaboard Isomat Movement Matting, Dukkaboard Decoshield Corners, Dukkaboard Decoshield Drain Manchets, Dukkaboard Decoshield Matting and the Dukkaboard Iso Shield Movement Matting.
Contact our team today to order your Dukkaboard Deco Matting
To find out more about stocking the new Dukkaboard Deco Matting or any of the movement mattings range, please contact the sales team today. We operate on a trade only basis throughout Ireland and Northern Ireland, via our network of retailers, wholesalers, builders' merchants and online retailers. If you would like to find your nearest supplier of Dukkaboard Deco Matting, please contact us.
Click here to download the Decomat Datasheet