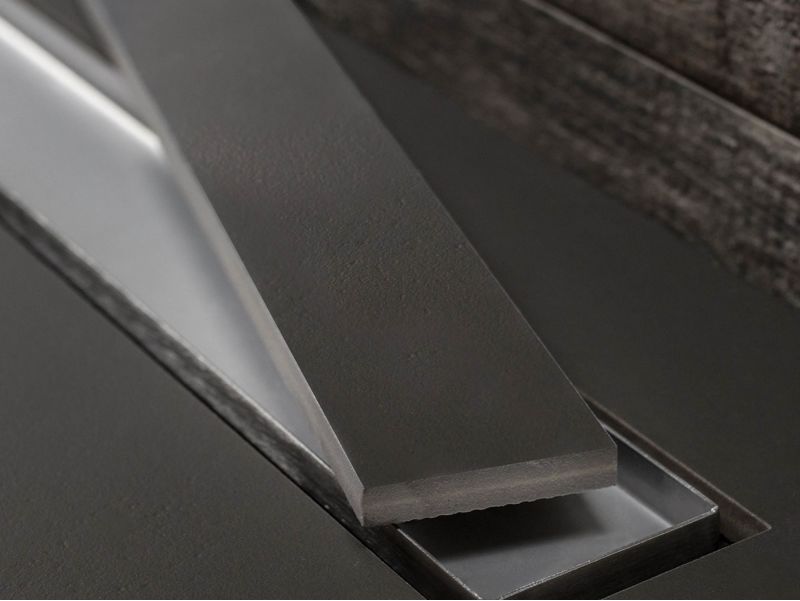 We are pleased to introduce our range of Confluo smart drains. These barrier-free drainage systems are manufactured using the highest-quality materials, with an easy to install modular design. The modern range is manufactured by Pestan, who are known for their innovative and elegant bathroom drainage solutions. We have hand-selected the range to provide our stockists with a premium variety of products, ideal for installation in bathrooms, wet rooms and walk-in showers.
Who are Pestan?
Pestan are located in the Balkans, where they are leaders in the production and distribution of products and solutions which use polymers. The company was founded in 1989, when it started to produce water pipes made using polyethylene. Today, Pestan uses a variety of materials and has expanded its product range to offer more than 6,500 products, including piping, bathroom, agricultural and household solutions.
An Innovative anti-leaking system
Pestan have created an innovative anti-leaking system, which allows all leaked water under the tiles to flow back to the drain. Over the years any water leaks within a bathroom have a tendency to build up underneath the tiles, which leads to high moisture levels and erosion of the grout. It can take 5-7 years for this problem to be noticed on the surface, however the problem is usually a result of poor waterproofing. The Pestan grid holder design solves this problem, as there is no longer a barrier trapping water under the tiles. By sloping the screed correctly and installing the correct waterproofing, water can flow into the innovative Confluo drain.
Premium Line Smart Drains
The Premium Line drains are available in 4 different sizes, to combine both quality and functionality. The innovative 2 in 1 system combines both stainless steel and ceramic to create a modern, streamlined finish. This particular model has a superior flow rate of 48l/min and offers a minimum installation height of just 52mm, making it the lowest drain in the world with a DN 50mm output.
The Premium Line Drains include an O-Ring, which provides extra protection against foul smells and insects when the water evaporates from the ultra-low S base. The class-leading features of this drain make it the perfect model for the most demanding renovation projects.
Lengths available: 650, 750, 850, 950mm
Frameless Line Smart Drains
This range of smart drains are the latest linear drains to be added to the Confluo range. They are characterised by their modern 'no frame' design, which provides a unique and elegant finish. The 2 in 1 reversible grid system combines stainless steel with ceramic and offers an impressive maximum flow rate of 48l/min.
This drain also features a dry siphon with O-Ring for use with flow rates of less than 26l/min, providing additional protection against bad smells and insects. The drain has a minimum installation height of 62mm and features Styrofoam for protection during installation, whilst also ensuring the ceramic is perfectly level.
Lengths available: 650, 850 and 1050mm
Slim Line Smart Drains
The Slim Line drains use a stainless-steel grid to provide a unique minimalist finish. This particular linear drain offers a height adjustable grid with heights of 5-20mm available, to ensure a multitude of bathroom surface options are available. The Slim Line has a DN 50mm horizontal output, which allows for the possibility of a superior 48l/min flow rate. When combined with the minimum installation height of just 72mm, the Slim Line range is a great option for architects and interior designers.
Lengths available: 650, 850, 950, 1050, 1150mm
Angled Floor Drains
The angle design of this drain is perfect for a corner installation, it features a plastic body with a stainless-steel grid design. The drain offers a maximum flow rate of 48l/min with a minimum installation height of 71mm. One of the main benefits of this drain is the unlimited levelling of ceramic offered, making it ideal for handicap access.
Size: 200x200mm
Standard Drains
The standard drain features a versatile square design, so has the potential for installation within a variety of spaces. The drain is designed with a plastic body, with options available for a stainless steel or stainless steel and PVC grid with a modern tide design. The ultra-low S base features a 25mm water seal, which can be rotated a full 360 degrees to achieve the perfect fit.
Size: 150x150mm
For prices and more information, please contact the Quantum team. Alternatively, to view the full range of Confluo products on our website, click here. We operate on a trade only basis through our network of retailers, wholesalers, builder's merchants and online tiling product suppliers. If you are based in Northern or Southern Ireland and would like to find your nearest suppliers, please contact us.