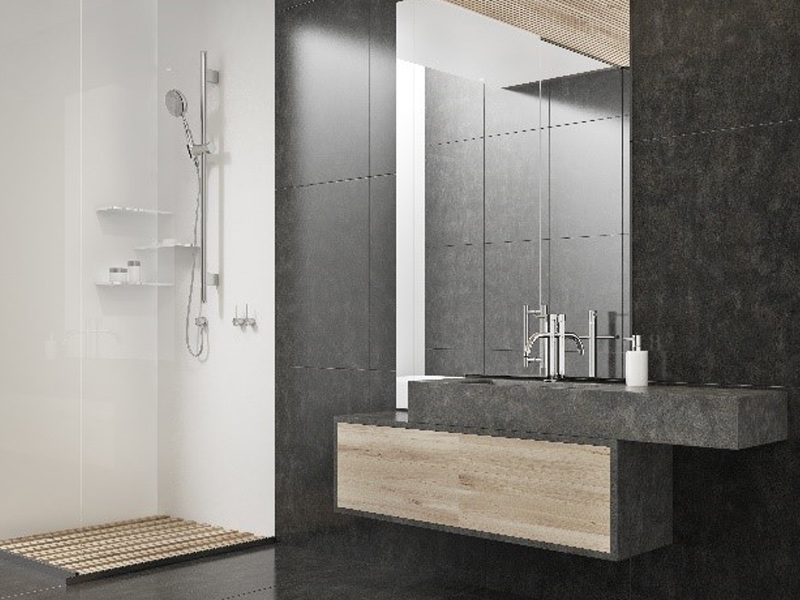 Are you updating your bathroom, but can't decide between a shower cubicle and a wet room? We help you compare the pros and cons of both, from safety and cost through to overall efficiency, we help you decide. In the past, many of us chose a traditional shower over a bath, but recent bathroom design trends have provided us with a variety of new options. Wet rooms and separate shower cubicles are increasing in popularity, with options available for almost every bathroom space.
Wet rooms
A wet room provides both a practical and contemporary bathroom design, creating a space which you can walk into without a standard shower tray. A wet room eliminates trip hazards, shower doors and they are also ideal for those with reduced mobility thanks to their accessibility. There are also tiles available with a low-slip finish to minimise the risk of any slips and create a safe environment. The majority of wet rooms will need to be tiled on both the floor and walls, which can increase cost. However, this is a chance to add a unique design element to the space, with bold patterns and colours popular options. If your bathroom is quite small, you will probably need to incorporate a screen to protect your towels from wet sprays. Of course, the fitting of the tiles is important too, with adequate gradients and waterproof seals required to avoid unwanted leaks. A professional tiler will be able to tank the room to ensure it is waterproof and create the gradient required to channel water into a drain. It is worth considering that in general a wet room will be less water efficient than a small shower enclosure.
Shower cubicles
If you are looking for a more cost-effective solution, a shower cubicle is often a cheaper option due to the installation method. If you have a small bathroom, an unused corner or a recess, a shower cubicle will maximise the rooms space potential. There are many modern cubicle shapes available, such as corner styles and 'D-shapes', which are ideal for fitting into awkward bathroom spaces. From a safety perspective, there are many products available such as anti-slip trays and doors, which open into two sections. These will improve accessibility for those which needs extra assistance. If you want to create the feel of a wet-room, while lowering cost, there are low profile shower trays available. Whichever products you incorporate into the shower, there are ways to create a stylish yet safe space. Here at Quantum, we offer a variety of wet room and shower cubicle products which will ensure you create the perfect finish. These are available to view within our product pages, alternatively contact us to find your nearest stockist.