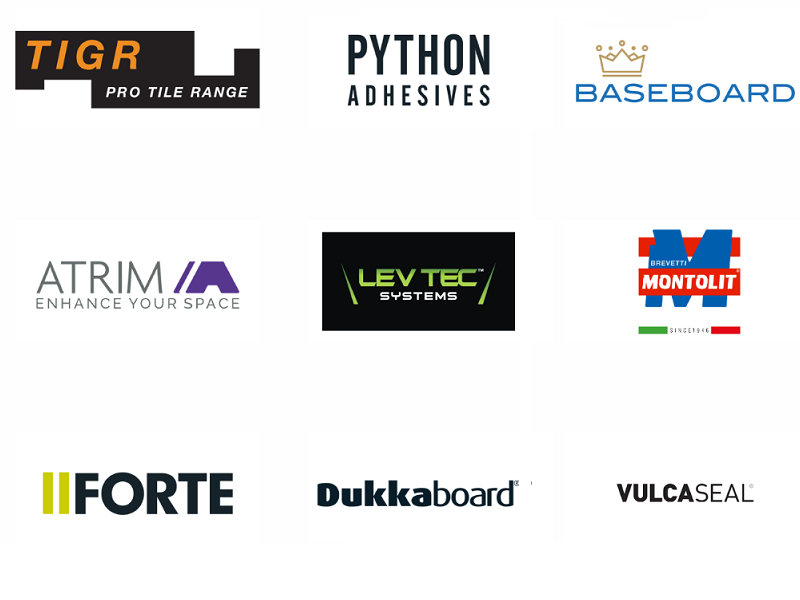 Here at Quantum, we are proud to stock the leading tiling brands within the tiling and wet room industry. The array of brands we offer is a reflection of our close relationship with manufacturers within the tiling sector.
Through our industry knowledge, experience and customer feedback, we have hand-selected a range of more than 3000 tiling products, which are proven and trusted to perform. Whether you are looking for tiling products for bathrooms, kitchens, living spaces or outdoor areas, we can supply the high-quality products you need. You will be able to find everything you need for the most demanding tiling projects within our industry leading range.
We are always striving to develop smarter, efficient and more cost-effective products, which no professional can afford to be without. This is why we also offer a variety of our own branded products, which we guarantee will provide complete peace of mind on any tiling or wet room project.
Alongside the products we manufacture here at Quantum, we also stock a wide variety of industry leading brands. From manufacturers of tile adhesive and grout to industry leading tile cutters and tiling trims, we are committed to sourcing you the best tiling products. Our experienced team search the world for the best brands, which is why we can offer you products manufactured in the Balkans, Italy and even Australia.
Put simply, our tiling brands are worth building with.
AquaTank
Our range of AquaTank products are designed to offer total water-resistance under positive thrust. The most popular product within the range is the AquaTank kit, which can be used to guarantee the protection of absorbent substrates, or those which are exposed to damp, humid environments. Once dry, ceramic, porcelain and natural stone can be installed using a mineral adhesive. Click here to view our range of AquaTank products.
Baseboard
The Baseboard tile backer board systems and preformed shower trays are found at the heart of all quality tiling.
The innovative boards can be used to create a waterproof surface suitable for fixing wall and floor tiles or shower trays. The system is designed for use instead of chipboard, ply or plasterboard, where it works to prevent water reaching the surface beneath the board.
There are many potential applications, although they are most commonly used within showers, wet rooms, steam rooms and swimming pools. To complement the finish within the area, their high thermal insulation properties ensure minimal heat transfer to adjacent surfaces, making them ideal for use below electrical underfloor heating.
Their versatility allows them to be used on metal and timber stud work, or on top of existing floors and walls to cover unstable and uneven surfaces. In addition, their lightweight design means there are no extra load requirements and they are very easy to handle and cut.
The panels are manufactured to the highest specifications and have become the industry benchmark for stable, impervious and durable tile backer boards and trays. Click here to view our range of Baseboard products.
Tigr
TIGR are renowned for manufacturing an advanced range of diamond blades, which are capable of cutting through a wide range of materials. If you are looking for a blade which is able to cut through ceramic, glass, porcelain, granite, blocks, marble, tarmac, concrete or asphalt, TIGR is the brand you can rely upon.
The market-leading diamond blades and cutting tools have been available to the civil engineering and groundwork industries for over a decade, with a growing number of professionals using the tools in tiling and wet room projects. Their reputation for durability and safety while also being cost-effective has ensured that the brand is one of the most trusted names in the industry.
The range of blades includes ultra-thin options which are ideal for dry cutting thin marble, granite and porcelain. In addition, we can also offer the TIGR TPR blades, which are the latest development in tile cutting for porcelain, glazed, ceramic, vitrified, natural stone and granite tiles. The blades are known by professionals for their superfast, clean and chip-free cutting, thanks to the unique fluted continuous rim. They also include a raised collar bush to provide optimum flange support.
All products manufactured by TIGR are approved to EN Standard and meet full ISO and OSA requirements. Click here to view our range of Tigr products.
Python
Get a grip with Python. Python manufacture a premium range of tiling adhesives and grouts, designed for all professional tiling applications.
As a leading brand, every product is manufactured to the highest standards. This ensures they are ideal for professional use in all tiling and wet room projects. As the preferred choice for contractors, builders, tilers and architects, you can trust Python to provide a perfect finish in every tiled environment.
Python are committed to providing the best quality tiling materials possible, with a variety of products to suit every application. For example, Python ST is a polymer modified, flexible standard setting cement-based adhesive designed for use on walls and floors. Another option is Python LR, which is a free flowing, quick setting, fibre reinforced cement-based formula, designed to smooth and level sub-floors before the installation of coverings.
Every product is fully tested to industry standards, so whether you are looking for flexible adhesives or fast setting levellers, Python will have the right option for you. Click here to view our range of Python products.
ATrim
ATrim, providing the expert finishing touch that all great tiling deserves.
Founded in 1992, ATrim offer a versatile range products, designed to protect and finish tiled edges. The brand has a great reputation among professional tilers, thanks to their innovative products designed to provide protection and improved presentation solutions. Today, the company operate globally and have supplied products to some of the most prestigious projects around the world.
The comprehensive range includes a selection of high-quality tiling trims, profiles, movement joints, expansion joints, decoupling mattings, transitional covers and stair nosing's. The solutions are designed for use on all types of ceramic and stone tiled surfaces, making them ideal for use in tiled bathrooms, kitchens and wet rooms. The professional range is ideal for both small scale tiling projects and large-scale construction projects, such as new-build housing developments, swimming pools, leisure centres and shopping centres.
Their constant pursuit of product development ensures there are always exciting new profiles and finishes in the pipeline. If you are looking to supply your customers with innovative products, derived from the latest trends and demands in the tiling industry, ATrim is the brand of choice.
A Trim aim to create products which give people the ability to enhance their spaces, through high-quality finishes and a professional touch. The combination of experience, innovation and the finest quality profiles, ensures that ATrim products always provide an expert finish. Click here to view our range of ATrim products.
LevTec
The patented LevTec levelling system is designed to create flawless tiling projects, with perfectly level surfaces and consistent grout joints.
The range includes clips, wedges and pliers which lock tiles in place to prevent slumping during drying, while also removing substrate imperfections. Their interlocking design holds the tiles together, while eliminating the effects of adhesive shrinkage and gravity issues. This unique system will enable professional tilers to set floor and wall tiles without lippage until the adhesive is fully dry.
The clips are simple and quick to use thanks to their bevelled clip edges, with a strong and flexible design which does not suffer from accidental breakages. Unlike other clip and wedge-based levelling systems, the break point is below the base plate, allowing total expansion once removed. In addition, the reinforced reusable wedges are designed to provide complete accuracy, so every tiling project benefits from a faultless surface.
There is no simpler way to ensure a perfect tiled job every time. Click here to view our range of LevTec products.
Montolit
Montolit are an Italian brand, which have been manufacturing professional tiling tools since 1946. The company began in a small workshop in Northern Italy, where they created innovative tiling tools for an expanding Italian market.
Today, Montolit is still operated by the Montoli family and is a leading in professional tiling tools across 80 countries. The company owns more than 100 patents, with each one representing a unique solution to real life problems experienced by tiling and wet room professionals.
The company is committed to providing innovative tools and maintains close relationships with technical schools, universities and factories, to ensure they stay ahead of evolving trends within the tiling industry. Their aim is to produce equipment which is known for its advanced technical solutions, robustness and longevity.
The entire range is built for use by professional tilers, with a range of designs that are ideal for cutting quarry, mosaic, ceramic and porcelain tiles. The main product lines offered are tile cutters, paving block cutters, diamond tools and electric tile saws.
As a brand, Montolit take pride in the safety and reliability of their products, which is why Montolit tools benefit from a 2-year warranty, with all manually operate tile cutters and drills covered by a lifetime warranty. Click here to view our range of Montolit products.
Forte
Forte provide a range of professional tools, designed to meet every tiler's needs. The range of high-quality tiling tools are designed exclusively for professional tilers, with a focus on precision, quality and strength. The extensive range includes everything from tile nippers, files and scrapers to sanding stones, trowels and bucket sets. Click here to view our range of Forte products.
Sigma
Sigma was founded in Rimini Italy and has been established since 1964. Sigma is a family run business specialising in the production of hand built tiling tools, which are all designed and patented in house from start to finish. As one of the leading tiling brands Sigma products can be found all over the world with many loyal professional tilers using their products for professional projects.
Sigma manufactures a wide range of tiling products starting with manual cutting machines that are 37cm in length all the way through to specialist large format tools that are 371cm long. Sigma also produces a range of high-end electric tile saws and tiling accessories. Click here to view our range of Sigma products.
Cocoon
Cocoon Warmfloors design and supply custom underfloor heating solutions for homes. The complete range has been designed by a team of experts, to offer complete performance and peace of mind.
Covering all types of installations from new builds, commercial and residential projects. The Cocoon Warmfloors range can offer a wide range of products and fixings for a number of floor build ups, using only high quality, dependable products. All Cocoons wireless control underfloor heating packages are supplied to specification with a full set of tried-and-tested components. Click here to view our range of Cocoon Warmfloor products.
Genesis
As one of the foremost companies in its field, Genesis prides itself on being more than just a collection of products for the Floor-covering industry. The fully integrated range of finishing solutions from Genesis is the direct result of years of interaction with the construction industry from the specifier to the end user.
Designed and developed to solve a host of finishing problems encountered by specifiers, contractors and developers. Each Product is carefully tested and manufactured to the highest quality standards to ensure it is fit for purpose and is designed to improve and facilitate installation. Click here to view our range of Genesis products.
Thermosphere
ThermoSphere aim to transform spaces into environments of pure comfort for anyone to enjoy. Their entire product range is driven by conversations with customers, installers and homeowners. This results in electric underfloor heating solutions which are beautifully simple to specify, install and use.
Their efficient heating solutions paired with the range of intelligent thermostats create a personalised heating system to suit any environment, reducing energy wastage and saving money. Click here to view our range of Thermosphere products.
Pestan Confluo
Pestan are a leading supplier of innovative and elegant bathroom drainage solutions. The Confluo smart drains are barrier-free drainage systems which are manufactured using high-quality materials and an easy to install modular design. The modern range is designed to be functional, stylish and cost-effective.
The Quantum range of Pestan products have been hand-selected to provide a premium finish to bathrooms, ''Walk in'' showers and wetrooms. Click here to view our range of Pestan Confluo products.
Lithofin
Quality of product is at the heart of everything Lithofin manufacture, which has led to a great reputation within the industry. Their continuous laboratory investment as well as practical tests guarantee the product quality satisfies or surpasses the expectations of the user. The range includes products which are designed to clean, protect and maintain stone and tiles. Click here to view our range of Lithofin products.
HG International
HG International is a Dutch company which offers a wide variety of cleaning products designed to 'clean, protect and beautify'. Their range of tile treatments, grout sealants, cleaners and wax protectors are some of the most demanded products within the tiling industry. Click here to view our range of HG International products.
Raimondi
Raimondi are one of the well-known tiling brands that focuses its product research on the needs of the end users. This means that every single product in their range from the small tools to the large machines are designed to meet the needs of professional tilers. They aim to improve the quality of the finished work, increase productivity and reduce operate fatigue. We are proud to supply a highly innovative range of Raimondi products across the country. Click here to view our range of Raimondi products.
Dart
DART's power tool accessories are designed precisely for performance. Engineered precisely for exceptional lifetime value, and backed by a service that's precision-tuned to meet your needs. That's what makes DART the right choice for thousands of users and resellers globally.
Established close to a decade ago, DART has grown year on year, thanks to their high-quality products. The business is an independent company run by a proactive board of directors with a team consisting of industry experts who really understand how our power tool accessories are used. Click here to view our range of Dart products.
Quantum Group NI – Wholesale suppliers of the leading tiling brands
We operate on a trade only basis through our network of retailers, wholesalers, builders' merchants and online retailers. If you are based in the UK or Ireland and would like to find you nearest supplier, please contact us on: +44 (0) 28 7131 2064 or email the team at [email protected]